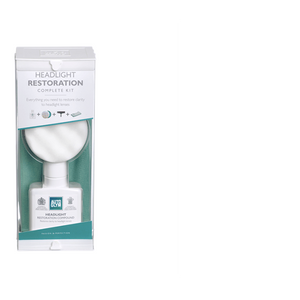 Dull, cloudy headlight lenses can spoil the face of your car and hamper the performance of the bulbs.
Headlight Restoration Complete Kit is an effective solution to restore clarity to your headlights.
Designed to work with any electric drill, this kit will quickly, safely and effectively renovate plastic headlight lenses.
Contents:
100ml Headlight Restoration Compound
1 x Drill bit backing plate
6 x P800 sanding abrasive disc
4 x P1500 sanding abrasive disc
1 x P2000 sanding foam disc
1 x P3000 sanding foam disc
1 x White compounding pad
1 x Microfibre cloth