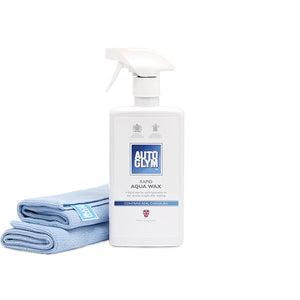 Wash the vehicle with an Autoglym Shampoo and leave wet.
Shake well and apply Rapid Aqua Wax sparingly to all exterior surfaces excluding the windscreen. 2-3 sprays per panel are sufficient.
Use the first clean microfibre cloth to spread Rapid Aqua Wax until there is an even coating over all surfaces.
Buff to a shine with the second clean, dry microfibre cloth.
Stand back and admire.